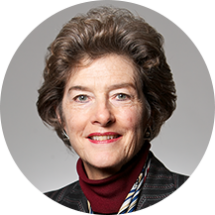 Anne L. Bryant is a member of EDC's board of trustees and chair of the trusteeship committee. Executive director emerita of the National School Boards Association (NSBA), Anne is a nationally recognized leader in education who has testified before Congress on such topics as the Individuals with Disabilities Education Act and the Elementary and Secondary Education Act.
Anne's many accomplishments include collaborating with 15 education organizations to create the Learning First Alliance, which focuses on raising student achievement, creating safe environments, and connecting communities to their schools. She currently serves on the board of regents of the American Architectural Foundation and has previously served on various other boards, including the Universal Service Administrative Company, the National Teachers Hall of Fame, and Simmons College. Prior to her time at NSBA, she held leadership roles with the American Association of University Women, where she was executive director, and P.M. Haeger & Associates. She is the recipient of numerous awards and honors, including the Community Builder Award from the National Coalition for Technology in Education and Training and two honorary degrees. She received the 2013 lifetime achievement award from the American Society of Association Executives.
Anne holds a BA from Simmons College and an EdD from the University of Massachusetts.