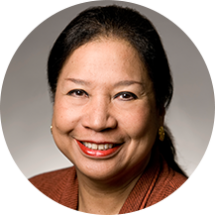 Beatriz Chu Clewell is an education policy researcher whose career has focused on researching factors that influence the educational attainment of underrepresented groups, especially in the STEM fields. She has served on several national education panels, most recently a congressionally mandated committee convened by the National Academy of Sciences to produce a report on underrepresented groups and the expansion of the science and engineering workforce pipeline. She was also the executive director of the Commission on the Advancement of Women and Minorities in Science, Engineering and Technology Development (CAWMSET), a bipartisan congressional commission based at the National Science Foundation.
While at the Urban Institute, Beatriz directed the Program for Evaluation and Equity Research and led several large-scale research projects and program evaluations. Among these was a study to identify the policies and practices that characterize schools where all students achieve and several evaluations of national programs to increase the participation of women and underrepresented minorities in STEM. Before joining the Urban Institute, Beatriz served as a senior research scientist at the Educational Testing Service. She served as associate editor of Educational Evaluation and Policy Analysis, an American Educational Research Association policy journal, and has authored numerous publications. She has been the recipient of multiple awards and honors, including the Distinguished Scholar Award from the American Educational Research Association.
Beatriz holds an MA and a PhD from Florida State University.