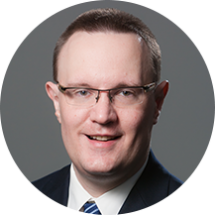 Brad Karlin, PhD, is a vice president and chief of mental health and aging at EDC. He leads EDC's work with public and private health care systems to promote the dissemination and delivery of evidence-based psychological treatments and to improve mental health and dementia care for older adults.
Karlin has been instrumental in advancing the delivery of evidence-based psychological treatments and enhancing geriatric mental health services at national and local levels. Prior to joining EDC, Karlin served as the National Mental Health Director for Psychotherapy and Psychogeriatrics for the Department of Veterans Affairs (VA) health care system, where he developed and oversaw the nation's largest dissemination of evidence-based psychotherapies and transformed geriatric mental health services.
Karlin is board-certified in geropsychology and is the recipient of numerous awards, including the inaugural Award for Outstanding Contributions to Continuing Professional Development in Psychology from the American Psychological Association (APA), a Certificate of Commendation from the Secretary of Veterans Affairs, and the Outstanding Administrator award from the VA section of APA. He has also led numerous national committees and work groups, including serving as chair of an Institute of Medicine panel on implementation models and systems.
Karlin earned a PhD in clinical psychology from Texas A&M University and completed a clinical internship and postdoctoral fellowship in geropsychology. He is the current president of the Society of Clinical Psychology and is a fellow of the American Psychological Association.
"Now is the time to improve mental health and dementia care. Using proven training and implementation strategies at provider, systems, and patient levels, we can transform care delivery and the lives of those with mental health and behavioral challenges."
Speaking Highlights
Dissemination and implementation of Evidence-Based Psychotherapies in Health Care Systems around the World
Panel Chair and Presentation, 45th Annual European Association of Behavioral and Cognitive Therapies Congress
Strategic, Multi-level Model for Nationally Disseminating and Implementing Evidence-Based Psychological Treatments: Levels of Intervention and Outcomes
Presentation, 48th Annual American Association of Suicidology Conference
Impact, Lessons Learned, and Implications from the National Dissemination of Evidence-Based Psychotherapies: Informing Research and Future Dissemination and Implementation Directions
Presentation, 7th Annual National Institutes of Health/Academy Health Conference on the Science of Dissemination and Implementation
Selected Publications
Karlin, B. E., Trockel, M., Brown, G. K., Gordienko, M., Yesavage, J., & Taylor, C. B. (2015).  Comparison of the effectiveness of Cognitive Behavioral Therapy for depression among older versus younger veterans: Results of a national evaluation.  Journal of Gerontology: Psychological Sciences, 70, 3–12.
Karlin, B. E., & Cross, G. (2014).  From the laboratory to the therapy room: National dissemination and implementation of evidence-based psychotherapies in the U.S. Department of Veterans Affairs health care system.  American Psychologist, 69(1), 19–33.
Karlin, B. E., Visnic, S., McGee, J. S., & Teri, L. (2014).  Results from the multisite implementation of STAR-VA: A multicomponent psychosocial approach to managing challenging dementia-related behaviors of veterans.  Psychological Services, 11(2), 200–208.
Selected Resources
Resource libraries
This resource library maintained by the Suicide Prevention Resource Center (SPRC) includes products created by SPRC and its partners as well as toolkits, fact sheets, guides, upcoming trainings and
Toolkits
This toolkit provides ideas for integrating suicide prevention into the work of senior centers.
Learn More