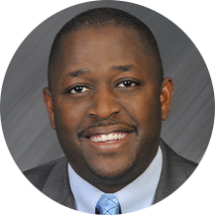 Garth Graham is a vice president of Community Health and Impact for CVS Health and president of the Aetna Foundation. He oversees community health initiatives, assisting company efforts to address social determinants of health through innovative partnerships and evidence-based grant programs.
A cardiologist and professor of medicine, Graham previously served as deputy assistant secretary at the U.S. Department of Health and Human Services under the Obama and Bush administrations. He ran the Office of Minority Health and directed the development of the first National Health Disparities Plan released under the Obama administration. As the assistant dean for health policy at the University of Florida's School of Medicine, he led several research initiatives for improving outcomes and readmission rates in cardiac patients in underserved populations.
Graham contributes to several boards, including the National Heart, Lung, and Blood Institute Advisory Council; the Institute of Medicine Board on Population Health; and the Harvard Medical School Diversity Fund (chair). He has been featured in several publications, including Fortune, the Hill, the Chicago Tribune, and Essence.
Graham holds an MD from Yale School of Medicine, an MPH from Yale School of Public Health, and a BS from Florida International University. He holds board certifications in internal medicine, cardiology, and interventional cardiology.