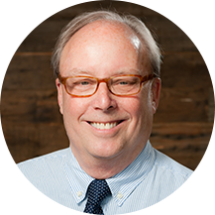 A nationally recognized leader in the field of suicide prevention, Jerry Reed, PhD, is an EDC senior vice president and a portfolio leader. Through advocacy, authorship, and effective program leadership, he has raised awareness about suicide as a leading cause of death and driven public policy changes at the state and national levels.
Reed directs EDC's Suicide, Violence, and Injury Prevention portfolio, which among other projects includes serving as co-director with partners at the University of Rochester Medical Center for the CDC-funded Injury Control Research Center for Suicide Prevention, as well as working closely with project directors overseeing the Zero Suicide Institute, the National Action Alliance for Suicide Prevention, and the Children's Safety Network. Until 2017, Reed directed the Suicide Prevention Resource Center, which has been operated by EDC since 2002.
An outspoken advocate of the importance of both a public health and mental health approach to injury, violence, and suicide prevention, Reed serves on the executive committee of the National Action Alliance for Suicide Prevention, has testified before the U.S. Congress, and speaks frequently both nationally and internationally.
Reed has a PhD in health-related sciences, with an emphasis in gerontology, from Virginia Commonwealth University and an MSW from the University of Maryland at Baltimore.
"We know enough now about suicide, violence, and injury prevention that we need to start putting interventions and programs forward with intentionality and purpose."
Projects
Speaking Highlights
Progress and Promises: We All Hold a Piece of the Puzzle
Keynote presentation, 15th Annual Prevent Suicide Hawaii Conference "E Malama Ola" (Caring for Life)
National Strategies for Suicide Prevention: How to Work for Impact
Paper presentation, International Association for Suicide Prevention 28th World Congress
Is It Time to Shift Our Approach and Examine Non-Suicide Specific Outcomes in Suicide Prevention Efforts?
Workshop presentation, XXVII World Congress of the International Association for Suicide Prevention
From Pain to Promise: How Survivors Have Influenced the U.S. Suicide Prevention Movement
Paper presentation, 3rd Australian Postvention Conference
Bridging the Divide between Public Health and Mental Health: Working Together to Advance Suicide Prevention
Panel presentation, 45th American Association of Suicidology Annual Conference Baltimore
Media
Articles
"Silence Broken on Suicides— South Bergen Area Families Reflect"
The Record, July 17, 2014
"Preventing Suicide's Ripple Effects Takes Coordinated Effort"
JAMA, 2013
Selected Publications
O'Donnell, L., Karlin, B., Landon, M. K., Dash, K., & Reed, G. (2017). Soldiers' recognition and response to mental health problems:  Using vignettes to elicit attitudes and barriers to help seeking. Military Behavioral Health, Advance online publication. doi:10.1080/21635781.2017.1355282
Ports, K. A., Merrick, M. T., Stone, D. M., Wilkins, N. J., Reed, J., Ebin, J., & Ford, D. C. (2017). Adverse childhood experiences and suicide risk: Toward comprehensive prevention. American Journal of Preventive Medicine, 53(3), 400–403.
David-Ferdon, C., Crosby, A. E., Caine, E. D., Hindman, J., Reed, J., & Iskander, J. (2016). CDC Grand Rounds: Preventing Suicide Through a Comprehensive Public Health Approach. MMWR. Morbidity and Mortality Weekly Report, 65(34), 894–897.
Shepard, D. S., Gurewich, D., Lwin, A. K., Reed, G. A., & Silverman, M. M. (2015). Suicide and suicidal attempts in the United States: Costs and policy implications. Suicide and Life-Threatening Behavior. Advance online publication. doi: 10.1111/sltb.12225
Reed, J., & Silverman, M. (2009). Suicide prevention in the United States of America. In D. Wasserman & C. Wasserman (Eds.), Oxford textbook of suicidology and suicide prevention: A global perspective (pp. 829-833). Oxford, England: Oxford University Press.