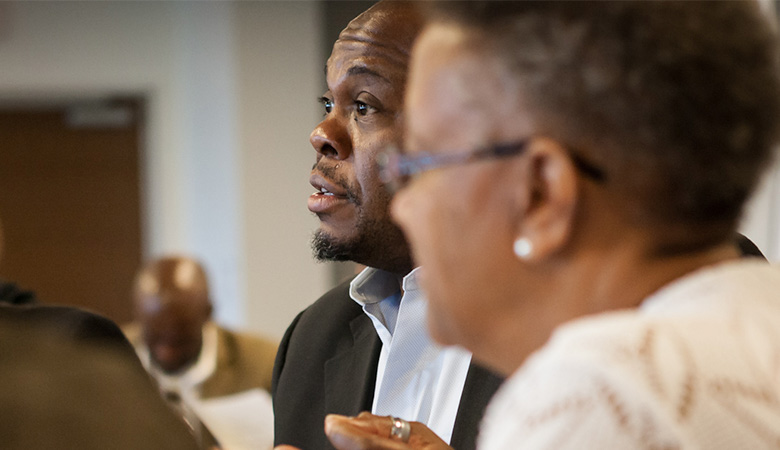 Challenge
Research has shown that effective school leadership can improve student learning. But while strides have been made to more closely associate effective leader behaviors with school, teacher, and student performance, the specific effects of leader performance on these outcomes remains less clear.
Over the past decade, EDC has contributed to this growing body of knowledge about what makes for effective principal leadership and training with funding from The Wallace Foundation. Through the Quality Measures™ Center for Program Assessment and Technical Assistance, EDC is supporting efforts to improve partnerships among principal preparation programs, school districts, and state educational agencies—a key step in preparing effective school leaders and improving student performance in chronically low-performing schools across the country.
Key Activities
Through the Quality Measures (QM) Center, EDC has undertaken the following activities:
Facilitate the assessment of principal preparation programs to identify strengths and areas of focus for improvement using QM tools and protocols
Provide technical assistance to programs that use QM data to develop targeted improvement strategies and interventions
Collect, interpret, and share improvement data with clients
Facilitate national and local professional learning communities of principal preparation program providers and school districts working together on persistent problems of practice
Design metrics and protocols for use in assessing program and partnership effectiveness and capacity for scaling and sustaining best practices
Offer an online training and certification program for programs interested in being licensed to use QM tools and protocols
Manage an online repository of evidence-based effective practices
Serve in an advisory capacity on principal preparation at the state and federal levels
To learn more, read "Wallace Announces Seven Universities to Participate in 47 Million Dollar Initiative."
Impact
The Wallace Foundation's 2019 video series, Principal Preparation: A Roadmap for Reform, Episode 3 highlights the use of EDC's Quality Measures™ by University Principal Preparation Initiative teams in self-assessing program quality, as part of their continuous improvement strategy. The four-part video series looks at local partnerships among universities, school districts, and state educational agencies as they work together to rethink and improve school leader preparation.
The 2018 RAND report, Launching a Redesign of University Principal Preparation Programs: Partners Collaborate for Change, highlights EDC Quality Measures' role in supporting program assessment and partnership building efforts of seven universities funded by The Wallace Foundation's $49 million University Principal Preparation Initiative.
To date, 15 Quality Measures™ facilitators have been trained and certified to facilitate principal preparation program self-studies with teams of program faculty, partner school districts, and state agencies. EDC QM trained facilitators have supported teams undergoing the QM process in over 7 states. These facilitators were tapped to lead the QM process based on their program's participation in the process. They bring a deep understanding of quality principal preparation and have experience in leading their own QM self-study teams.  
Testimonials from 35 participating principal preparation programs, involved in an EDC-facilitated professional learning community, are featured in this short EDC video case study, The Power of the Professional Learning Community: Evidence of Impact on Six School Districts and Their Principal Preparation Providers.
Quality Measures: Principal Preparation Program Self-Assessment Toolkit has registered a total number of 8,367 downloads to date from all over the world (from countries including Australia, Canada, China, India, Indonesia, Kenya, Malaysia, Mexico, Russia, South Africa, Spain, United Kingdom, United States, and Vietnam).
Quality Measures: Partnership Effectiveness Continuum has experienced a spike in usership since our last update in February 2019. Download data from the Wallace website indicate an increase from 10,624 to 12,535 registered downloads to date from all over the world.
The total number of principal preparation programs completing EDC-facilitated QM self-studies increased to 67, with the addition of 4 new programs in Kentucky. This brings the total number of states using Quality Measures™ to 10 (Colorado, Florida, Georgia, Maryland, New York, North Carolina, Connecticut, Virginia, Kentucky, and California).
Learn More
PROJECT DIRECTOR