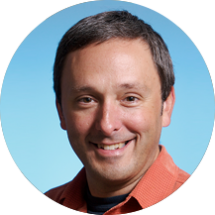 With more than 25 years of experience in technology integration, youth development, and youth media making, Tony Streit manages a portfolio of initiatives that promote afterschool learning, informal STEM education, and media literacy. Director of the EDC Chicago office, his work includes large-scale international professional development initiatives, national technical assistance, and local interventions.
Passionate about expanding access to hands-on, student-centered learning in all settings, Streit has managed the Adobe Youth Voices project since 2006. He has also developed training and curriculum on project-based learning and led research and technical assistance efforts for afterschool STEM programs.
Streit currently serves on the steering committee for the Chicago STEM Pathways Cooperative and is a board member and treasurer of the National Association for Media Literacy Education. He previously served on the Technical Working Group on STEM for the U.S. Department of Education's 21st Century Community Learning Center Program. He writes frequently about media and arts education and was named as one of the "Most Influential in STEM 2015" by AfterSchool Today magazine.
Streit has a BA in communications and a BA in economics from the University of Notre Dame.
"Despite all the technological advances in the last 25 years, young people continue to be marginalized, and the need for them to voice their perspective has never been greater."
Speaking Highlights
PBL & the MA 21st CCLC Program: A Systematic Approach to Support Academic Integration
Co-presentation, 21st Century Community Learning Centers Summer Institute
Making Meaning: Global Models for Youth Changemaking
Panel (moderator), Digital Media and Learning Conference 2015
Toward Social Justice through Expansion of STEM Opportunities: The Influence of Afterschool and Summer Programs
Discussant, Symposium at the 2015 Annual Meeting of the American Educational Research Association
Selected Publications
Bredin, S., Parker, C. E., Peterson, K., Goddard, K., Rivenburgh, W., & Streit, T. (2010). A report on the NSF ITEST convening: Defining an afterschool research agenda. Newton, MA: Education Development Center.
Selected Resources
Toolkits
In partnership with the Adobe Foundation, EDC created the Adobe Youth Voices Essentials, a set of open curricula and resources for educators to create breakthrough media-making learning experiences
Toolkits
This guide supports educators in creating, planning, and implementing innovative media projects with young people as part of the Adobe Youth Voices program.
Apps
Developed for Adobe by EDC, the AYV Story app provides a close-up view of the experiences of the youth media makers and educators who participated in the Adobe Foundation's Adobe Youth Voices (AYV)