Innovation and Impact

2014 Year in Review
From the President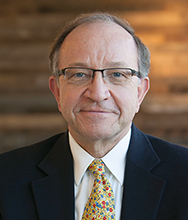 During my nine years at the helm of EDC, I have had many opportunities to see the effects of EDC's work, not only in the great fields of education, health, and economic development, but also on the lives of individuals. And while an ever-growing body of assessments and data speak to the quality and efficacy of EDC's service to our funders, partners, and beneficiaries around the world, it is my encounters with those individuals that have made the most lasting impressions on me.
"As each young person crossed the stage to receive a diploma, I felt as if they were being handed a passport to a better life."
A recent visit to Guyana reminded me of the lives we change. Guyana is home to EDC's USAID-funded Skills and Knowledge for Youth Employment project, which works with at-risk youth ages 15 to 24, many of whom have already been incarcerated. The SKYE project, as it is known, helps them develop the personal, financial, and basic education skills they need for employment and independence.
Read on >>
FY 2014 Highlights
EDC worked in the United States and 30 countries to improve education, health, and economic opportunity worldwide.