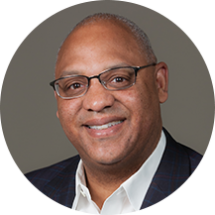 Bill Hughes is the president and founder of Open4 Learning, an innovation company that launches and grows ed-tech startups. As a software executive, he is focused on new ventures, strategy, innovation, and product management, and he has decades of experience advising senior executives at industry-leading multinationals on corporate strategy and partnership.
Previously, Bill was chief strategy officer at Learning Objects, where he led its growth strategy, resulting in an acquisition by Cengage in 2015. Prior to that, he was vice president of Global Strategy and Business Development at Pearson, leading innovation, partnerships, and new ventures in postsecondary education. While there, he co-founded Intellus Learning, launched Pearson Writer, and oversaw the transformation of Pearson's learning products into the MyLabs platform. Over the past 20 years, Bill has held leadership positions at Sapient, Mercer, and the Cambridge Innovation Center. He has also invested his time philanthropically as a venture partner at New Profit and a trustee of Kaplan University (acquired by Purdue University) and AISNE.
Bill holds an AB from Harvard and an MBA from the MIT Sloan School, where he was a Seley Scholar.