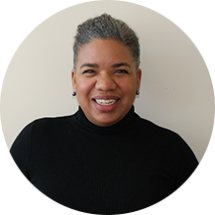 An expert in early education, literacy and teacher professional development, Carrie Lewis has more than 25 years of experience designing, implementing, and managing programs that improve access to quality education around the world.
Skilled in materials development, Lewis is most interested in linking schools with their local communities to achieve quality education. She has used mother tongue instruction and interactive audio instruction to design programs that are both context relevant and sustainable and has created professional development programs for local teachers. Her work has supported systemwide reform efforts in Qatar, Benin, Tanzania, Zanzibar, Madagascar, the Comoros, Malawi, and Zambia. She currently leads the Africa Primary Science Program, a study of one EDC's earliest science education projects.
Lewis has an MSEd in elementary education from Fordham University and is fluent in French.
"Mother tongue instruction just makes sense. It meets learners at a familiar point and brings them to the wider world, making them ready to learn."
Speaking Highlights
A Look at Instructional Practices Through Inquiry Based Science: Kenya's Curriculum Reform
Annual Conference of the Comparative and International Education Society (CIES)
Digital Materials Development for Low-Resource Contexts
Global Reading Network, International Mother Language Day
Implementing Scalable and Cost-Effective Early Childhood Programs
Vancouver, British Columbia
Maximizing Young Students' Literacy Learning: Mother Tongue Initiatives that Support Acquisition of Multi-literacies in Multiple Languages
Selected Resources
Reports
This brief describes EDC's deep commitment to ensuring that all young children have the support they need during the critical early childhood window of time.
Learn More