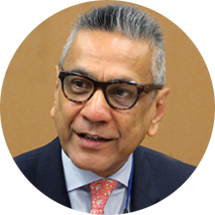 During his 30-year career, Darshak Shah has championed and successfully demonstrated that finance plays a critical role in helping organizations achieve sustainable strategic objectives. As the longest standing CFO of the United Nations Development Program (UNDP), Darshak was fully responsible for the global finance function of UNDP's annual revenue of $5 billion and spearheaded multiple reform initiatives, such as implementing the International Public Sector Accounting Standards. He served as co-chair of the High Level Committee of Management/Finance and Budget Network, which provides strategic direction on finance and budget issues across the UN system. Darshak was also a senior advisor to the UN Administrator on areas of high risk and devised mitigation strategies for addressing those risks.
Prior to UNDP, Darshak was an audit manager at Ernst & Young, a group financial controller at Trade Bank & Lima Finance, and the regional CFO of Neumann Gruppe—the largest private coffee trading house in the world.
Darshak is a Fellow of the Chartered Institute of Certified Accountants, United Kingdom.