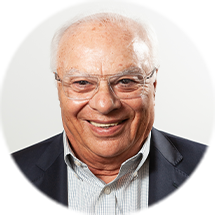 A banker and entrepreneur whose career spans over 55 years, Iqbal Mamdani currently serves as chairman of First Asian Investments, Inc., a privately held company focused primarily on real estate and private equity investments. Iqbal also oversees the Iqbal and Shelby Iqbal Foundation, Inc., a philanthropic organization dedicated to fostering educational, religious, and racial tolerance.
Iqbal's many accomplishments include the founding of TAIB Bank BSC, the first investment bank in Bahrain, which grew to have operating subsidiaries in the United Arab Emirates, Qatar, Turkey, Kazakhstan, India, the United States, and the United Kingdom, and was eventually sold to the Dubai Group. He also spearheaded the establishment of a real estate investment company that invested primarily in the United States, United Kingdom, and India.
Earlier in his career, Iqbal was responsible for developing Japanese business worldwide for American Express Bank. He also served as its regional vice president/Middle East.
Iqbal's current affiliations include Auburn Seminary, The Bretton Woods Committee, Harvard's Global Empowerment, Business Executives for National Security, American Turkish Society, Greater Naples Leadership Council, and the WGCU Diversity Advisory Council. He holds an MBA from the University of California, Berkeley, and a BA from International Christian University, Mitaka in Tokyo, Japan.