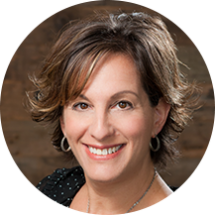 Julie Goldstein Grumet, PhD, is a clinical psychologist and public health professional with extensive experience in the suicide prevention field. Currently, she is director of health and behavioral health initiatives for the Suicide Prevention Resource Center.
A dedicated advocate of improving care and outcomes for individuals at risk for suicide, Goldstein Grumet has directed programs that build local capacity, address disparities in care, and support federal suicide prevention grantees. Her work has helped improve mental health care in multiple settings, including outpatient behavioral health clinics, inpatient psychiatric facilities, emergency departments, and urban schools.
Goldstein Grumet frequently comments on suicide prevention research, initiatives, and best practices, and she has been quoted in the Washington Post and the Orlando Sentinel. She earned a PhD in clinical psychology from George Washington University.
"A comprehensive public health approach to suicide prevention is critical for reducing youth suicide in the U.S."
Speaking Highlights
Suicide Prevention Resource Center
Triple Aim in Suicide Prevention
American Association for Suicidology
The Zero Suicide Approach: Providing Suicide Safer Care in Health Care Settings
National Council for Behavioral Health Conference
Identifying Individuals at Risk for Suicide
Service Members, Veterans, and Their Families Technical Assistance (SMVF TA) Center Implementation Academy
Increasing Access to Evidence-Based Practices for Suicide Prevention—Clinical Practices
SAMHSA's Service Members, Veterans, and Their Families Technical Assistance Center Workforce Development Conference
Selected Publications
Weist, M. D., Burke, R. W., Paternite, C. E., Flaspohler, P. D., Goldstein Grumet, J., & Bryant, Y. (2011). Promoting school mental health. In K. Hennessy & B. Levin (Eds.), Mental health services: A public health perspective. New York, NY: Oxford University Press.
Selected Resources
Resource libraries
This resource library is a collection of readings, tools, videos, and webinars to help users understand and implement the Zero Suicide Initiative.
Toolkits
This online toolkit supports the implementation of the Zero Suicide Initiative in health and behavioral health care settings.
Learn More