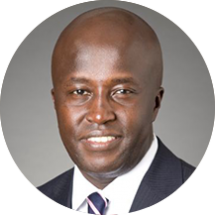 Nyagaka Ongeri is a managing director at Barclays where he has responsibility for growing the Corporate Banking business with a focus on U.S. multinational and development organizations. He joined Barclays in 2001 and spent several years growing the bank's U.S. corporate banking relationships with financial institutions.
Prior to this, Ongeri was a senior vice president at JP Morgan's South Africa office where he co-founded Student Sponsorship Program of South Africa, a nongovernmental organization that has provided more than $10 million in grants to hundreds of high school students since its inception in 2000.
Ongeri received a BA in business administration from Howard University and an MBA from Harvard Business School.