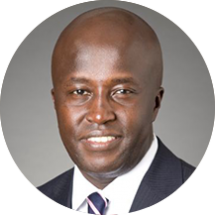 Nyagaka Ongeri is the founder and CEO of Ubora Advisors. Nyagaka was previously head of Global Corporates in the Americas for Barclays PLC. In this role, he had responsibility for building the corporate banking business with top U.S. clients with operations in Europe, the Middle East, Africa, and India.
From 2009 to 2011, Nyagaka was head of Global Finance and Risk Solutions for Barclays Africa in Johannesburg, South Africa. He managed the bank's financing products across 13 African countries. Preceding this, he was head of the Financial Institutions Debt Capital Markets Group at Barclays New York for several years. He joined Barclays in 2001 from JP Morgan, South Africa.
While in South Africa, Nyagaka co-founded the Student Sponsorship Program of South Africa (SSP), a leadership organization that has provided scholarships and mentors to several thousand high school students in South Africa.
Nyagaka is on the board of AMREF, a 50-year old organization dedicated to empowering the people of Africa through better health outcomes. He is also a board member and head of the Finance Board Committee for Education Development Center (EDC), a global nonprofit that provides lasting solutions to improving education, promoting health outcomes, and expanding economic opportunity in countries across the globe.
Nyagaka has a BA in Business Administration from Howard University, as well as an MBA from the Harvard Business School. He is also a CFA charterholder.