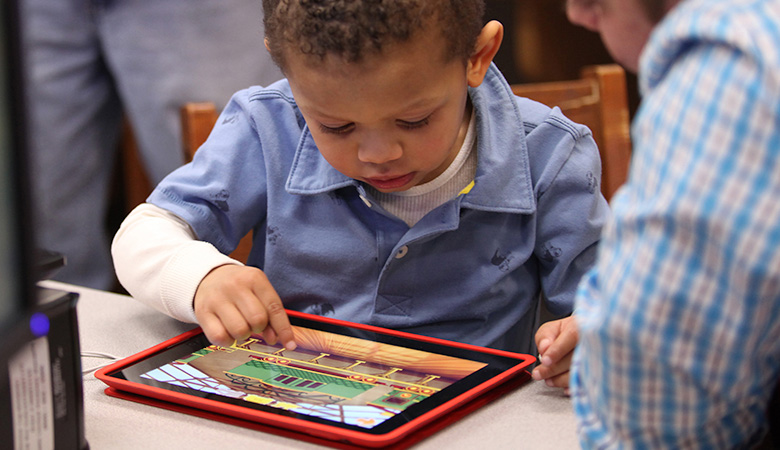 Challenge
Strong early learning experiences are critical for children's well-being in school and throughout life. Yet millions of children—particularly those in low-income communities—have limited or no access to quality early learning opportunities. How can we close this gap?
One approach is to draw on digital media. In 1995, the U.S. Department of Education began funding the Ready To Learn (RTL) Initiative for preschool- and elementary school-aged children in low-income communities. The goal was to promote school readiness through children's media targeting learning goals in literacy, math, and science. Since 2006, EDC has conducted research to determine whether the RTL resources are meeting their goals and how they can be improved, with a focus on communities that lack access to high-quality early learning resources and opportunities.
Key Activities
Our Ready To Learn research responds to ED priorities, contributes to the larger field of children's early learning, and offers practical information and tools to those working within local communities in the following ways:
Conducting research—including randomized controlled trials, pilot studies, mixed-methods evaluation, and survey and observational research—to determine the effectiveness of Ready To Learn resources on children's learning, benefits for parents and teachers, and community engagement
Collaborating with producers of new children's media products and services, focusing on the content's learning potential, appeal, and utility
Impact
Our studies have shown that children exposed to PBS KIDS resources improve in emergent literacy skills—such as naming letters and knowing concepts of story and print—and math skills, such as counting, recognizing shapes, predicting patterns, and problem-solving.
Our studies have also shown that use of PBS KIDS content across media platforms supports teachers' confidence as well as family engagement.
Learn More
PROJECT DIRECTOR
FUNDED BY
Corporation for Public Broadcasting/PBS, U.S. Department of Education