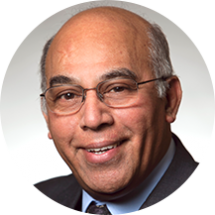 Vijay Kumar is associate dean and senior strategic advisor, digital learning, at MIT's Office of Educational Innovation and Technology, where he provides leadership for planning and implementing education innovations. In this and in prior roles at MIT, Mount Holyoke College, and the University of Maine at Machias, Vijay's work has focused on integrating information technology into education.
Vijay has been principal investigator of the Open Knowledge Initiative, supported by the Andrew W. Mellon Foundation. He has served as an adviser to several organizations, including India's National Knowledge Commission, UNESCO, the Open University of Catalonia, the Singapore University of Technology and Design, the Qatar Foundation International, and the Smithsonian on educational technology and innovation. Vijay is actively involved in efforts internationally to advance the use of Open Educational Resources for improving educational access and quality and is coeditor of a Carnegie Foundation book Opening Up Education (MIT Press, August 2008).
Vijay holds a B.Tech and an MS from the Indian Institute of Technology Madras and an EdD from the University of Massachusetts Amherst.