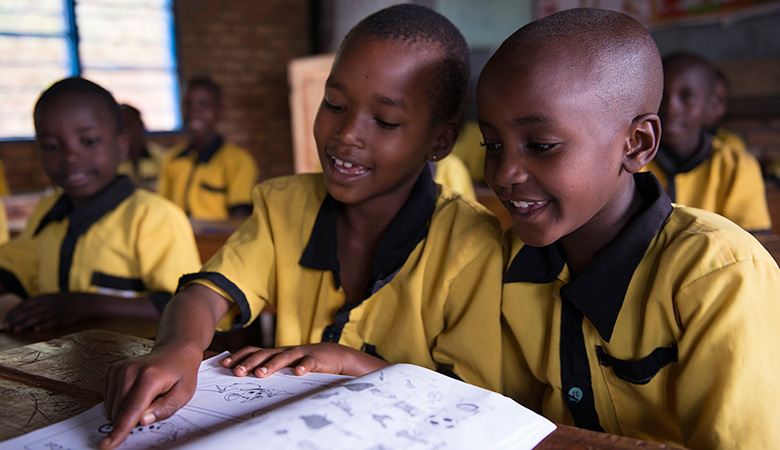 Challenge
Too many children and youth around the world lack the literacy skills they need to succeed in schooling and in life. In low-resource countries, their ability to learn to read and write is hindered by limited books, materials, and trained teachers.
EDC's Read Right Now (RRN) literacy approach provides clear and comprehensive strategies that effectively support ministries of education, educators, and parents in these contexts as they develop skilled readers and writers. The approach is designed specifically for challenging, resource-lean contexts and serves the following:
Educators with limited training and professional development opportunities
Communities where reading and writing are not widespread
Systems where classrooms are crowded and materials are sparse and unevenly distributed
Environments where multiple languages are spoken
Key Activities
RRN uses an evidence-based approach that builds skills in reading, writing, and oral communication. The instructional component can be tailored to meet the needs of any context and applied in early grade or low-literacy youth and adult learning classrooms. It simultaneously addresses oral language development, explicit literacy skills, and authentic reading and writing. RRN accomplishes the following:
Enhances teacher capacity through training and coaching
Provides print and digital resources for learners and educators
Engages families and communities as champions of and supports for literacy
Ensures that policies and systems for literacy are coherent and evidence-based
Impact
RRN has been used in more than 25 programs across Africa, Asia, and Central and South America. Settings have included remote, fragile, and high-conflict contexts; public and community-run schools; madrassas; rural one-classroom schools; alternative basic education programs; multilingual classrooms; and nomadic schools.
More than 15 million students and 300,000 teachers have benefited from participation in RRN.
In the Democratic Republic of the Congo (DRC), 21 percent of second-grade students using the program surpassed third-grade French fluency benchmarks, compared to 2 percent of students in other schools. Program students outscored peers even more in first-grade Lingala reading.
After a year and half, Senegal students averaged fluency rates of 81 words correct per minute and 95 percent comprehension.
In the Philippines, students' average gain in comprehension after a year of using the program was 24 percent, and 62 percent of participating students met fluency benchmarks (compared to only 45 percent of non-participating students).
In Madagascar, 96 percent of teachers were observed using evidence-based, student-centered instructional strategies after one year of program support, compared with 56 percent at the start of the program.
In Ghana, parents who reported reading to their children increased from 42 percent to 70 percent over the course of the program.