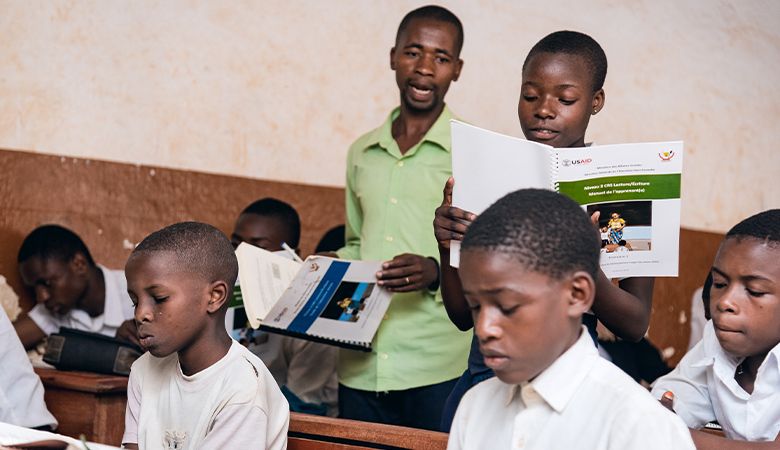 Challenge
For decades, protracted conflicts in the Democratic Republic of the Congo (DRC) have forcibly displaced more than 6 million people, destroyed community networks, and reinforced barriers to basic social services. Resource shortcomings and operational challenges plague the education system, leading to high rates of out-of-school children and youth. Approximately three quarters of the population are under 30 years of age and have limited access to education and employment. The Human Development Index defines 80% of Congolese households as meeting the standard for extreme poverty.
Between 2018 and 2022, EDC and its partners implemented the USAID/DRC-funded Integrated Youth Development Activity (IYDA). The project increased the resilience of vulnerable youth by strengthening access to alternative learning opportunities, critical life skills, and livelihoods support in conflict-affected urban and rural communities of North and South Kivu.
Key Activities
IYDA strengthened nonformal education and employment systems and supported work readiness and entrepreneurship activities. Project interventions included:
Providing professional development and access to upgraded teaching and learning materials
Integrating innovative approaches that strengthen youth leadership and employability skills using EDC's Work Ready Now, Be Your Own Boss, and Work-Based Learning curricula
Expanding civic participation and positive youth engagement in local communities
Supporting youth-led income generation projects as well as access to community managed savings and internal credit mechanisms through mentorship and coaching opportunities
Establishing a cohesive network of literacy volunteers that motivates learning beyond classroom instruction
Impact
Increased the self-efficacy of 10,000 vulnerable youth
Improved equitable access to basic education for 12,000 children and youth
Supported 8,000 youth through employability and entrepreneurship training
Reinforced the technical capacity of approximately 940 teachers, facilitators, school directors, inspectors, and youth literacy volunteers
A midline study of the project revealed:
53.1% of youth participants demonstrated improved resilience to conflict and violence.
57.4% of youth participants report a decreased propensity to engage in violence.
60.3% of youth participants demonstrated improved work readiness.
Learn More
PROJECT DIRECTOR
FUNDED BY
U.S. Agency for International Development
PARTNERS
FHI 360; Catholic Relief Services; Souktel