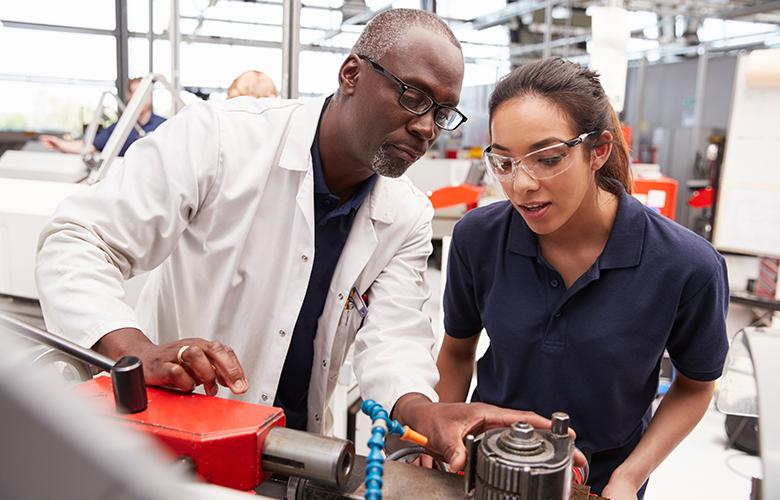 The goal of an education has always been to prepare students with the skills and habits needed for the future. But today, in an age when the pace of technological innovation continues to accelerate, it is increasingly difficult to identify what skills will be relevant 5 years from now—let alone 50. And this creates an interesting challenge for schools. How can they prepare students for life and work when the landscape of what is possible continues to change?
A few weeks ago, I talked with Joyce Malyn-Smith and Katherine Shields about this issue. Joyce has been examining career technical education (CTE) initiatives for over 20 years. She has even helped define new occupations in emerging industries. Katherine is an educational researcher, and is studying one school district that is using career academies—an alternative model of high school that emphasizes preparing students for specialized careers—to provide students with the skills they will need in a changing economy. I thought if anyone had an idea about how schools should be responding it would be these two.
Our conversation touched on a number of issues, including what kinds of skills students need to be learning now (data literacy and engineering were at the top of the list) to how business and industry partners can support high-quality, real-world learning in the classroom. One point of agreement was that CTE initiatives and STEM-focused career academies are well-suited to today's world, because they blend both academic and technical skills. These models also promote life-long learning—a critical habit of mind for a time when workers will be expected to develop new skills every few years.
Joyce and Katherine also offered some suggestions for educators and industry leaders who want to begin to do some of this work in their own communities. I was particularly taken by the idea of teacher externships, where educators spend time working within the professional field that correlates with their subject.
It may take years for the United States to create a smoother pipeline from high schools to high-tech STEM careers. In the meantime, as both Joyce and Katherine point out, CTE programs and STEM-focused career academies are playing an important role in closing the gap—and are already providing students with some impressive opportunities. I encourage you to listen to our whole conversation.
| | |
| --- | --- |
| | Burt Granofsky is a senior writer at EDC. |