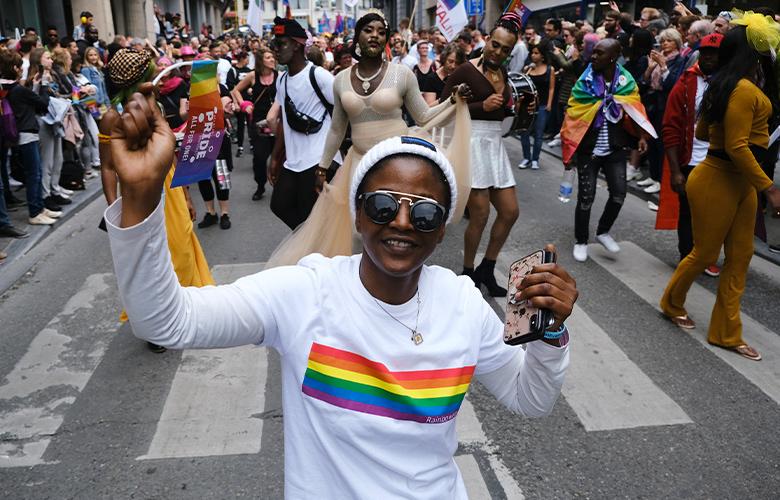 June is LGBTQ+ Pride month. I usually celebrate by marching in the Pride parade with my son's elementary school or going to the Dyke March rally. This year, I'm focusing inward, thinking about what queer history can teach us about Black Lives Matter and surviving COVID-19 for the long term.
Last year was the 50th anniversary of Stonewall, where LGBTQ+ individuals fought back against anti-queer police harassment. Key figures at Stonewall included Marsha P. Johnson, Sylvia Rivera, and Miss Major Griffin-Gracy, transgender women of color.
Stonewall urges us today to centralize the marginalized voices and concerns of Black and Brown LGBTQ+ people. GLSEN reports that nearly a third of Black LGBTQ students reported missing at least one day of school in the last month because they felt unsafe or uncomfortable due to racism and homo-, bi-, or transphobia.1 The national murder rate of Black transgender women is horrifying.2 Recent deaths of Black people at the hands of the police include Tony McDade, a transgender man. The LGBTQ+ movement needs to centralize and support the experiences of queer people of color and recognize their leadership in our history.
Another moment in LGBTQ+ history, the early days of AIDS, can teach us about our present struggles. An ex of mine, who has lived with HIV for 35 years, experienced the deaths of a whole generation of friends to AIDS. While many people dying from COVID-19 are elders, we nonetheless should prepare ourselves for a grief that is more widespread and possibly longer lasting than a typical personal loss. As with HIV, health care workers are experiencing feelings of helplessness and guilt in the face of a deadly disease with many unknowns.
However, also like during the AIDS crisis, people are creating new ways of connecting and providing mutual support—mutual aid networks, picking up groceries for elders, and sewing masks for each other. The confluence of Black Lives Matter and COVID-19 is galvanizing political action to make changes against systemic racism, as ACT UP forced systemic changes to support GBT people and those living with HIV/AIDS. Like Stonewall and ACT UP, today's efforts must be guided by the people who are most impacted. This Pride season, we must look back to prepare and fight for a better way forward.
Additional resources:
Addressing Social Determinants of Health for Black LGBTQ People
National LGBTQ Task Force Statement: Stonewall Was a Riot #BlackLivesMatter
| | |
| --- | --- |
| | Julie Ebin, a capacity-building and e-training specialist, is an expert in suicide prevention, LGBT concerns, and HIV prevention. She is also a co-chair of EDC's LGBTQ+ U.S. Interest Group. She thanks Jessica Auerbach, Sade Heart of the Hawk Ali, Audrey Johnson, and Adam Swanson, who contributed to this piece. |
---
1Truong, N. L., Zongrone, A. D., & Kosciw, J. G. (2020). Erasure and resilience: The experiences of LGBTQ students of color, Black LGBTQ youth in U.S. schools. New York, NY: GLSEN.
2Dinno A. (2017). Homicide rates of transgender individuals in the United States: 2010-2014. American Journal of Public Health, 107(9), 1441–1447. Retrieved from https://doi.org/10.2105/AJPH.2017.303878