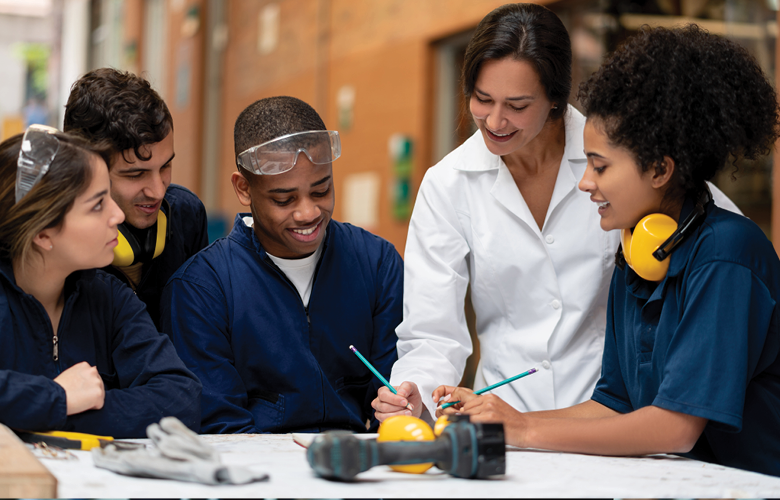 It's been two years since the United States first shut down due to the COVID-19 pandemic, and workers across every industry, at every level, are still learning how to navigate the resulting workplace transformations.
As the world trends toward remote work; an increase in automation; and more diverse, transparent, and accountable teams and leadership, business leaders and economic experts are predicting that many of our "temporary" pandemic-era work cultures will not return to normal. Instead, these trends will give rise to a new set of requirements and expectations for success in the future workforce—expectations related to remote and hybrid work, interpersonal relationship skills, growth-oriented mindsets, and leadership traits that support the emotional well-being of team members.
My colleagues at Education Development Center conducted in-depth focus groups with leaders of the fastest-growing industries in the United States, from big data to STEM-related industries, to learn more about what they saw as the key dispositions—that is, skills, behaviors, and attitudes—needed to succeed in the future of their industries. We learned that while each industry requires mastery of specific technical skills, leaders across these industries will increasingly place a priority on certain dispositions most critical for work-based success: self-confidence, the ability to develop and maintain strong professional relationships, persistence, and inquisitiveness.
But will our children be prepared to enter the workforce with these dispositions? Will public education be successful in helping young people develop these soft skills? The answers will determine not only their current success in school, but also their future success in the changing workplace.
Unfortunately, while more districts are taking steps toward bringing in social and emotional learning (SEL) programs and practices into their schools, many decision-makers are facing severe pushback questioning the need for SEL in the classroom. Additionally, existing programs to help individuals develop these skills in the context of workforce development have largely been limited to add-on training in corporate settings, in business school environments, and where funded, in vocational schools. While these types of training are better than nothing, as experts in this field, we have long known that developing social-emotional skills must start as early as possible. In fact, studies show that delaying the initial development of these skills, even until postsecondary education, is often too late. 
Classroom-based programs and practices offered through grades pre-K–12 are uniquely positioned to teach children these social-emotional skills at the most critical time in their development. By learning SEL concepts at formative stages, children grow up with an established foundation for socialization and emotional management. They feel more empowered to think creatively, problem-solve, demonstrate persistence in the face of challenges, show empathy for others, and become more socially aware of their surroundings. And these skills carry over into high school, where children are not only better prepared to complete group assignments, become independent learners, and manage puberty's intense emotions, they are also ready to apply their social-emotional skills in college and beyond.
With critical social-emotional skills developed through age-appropriate and research-based programs and practices, students are able to leave the school setting and enter the workforce "future-proofed." They will be fortified with skills and behaviors that align with the dispositions business leaders desire—goal-setting, persistence, a growth mindset, responsible decision-making, relationship-building, self-awareness, self-management, and social awareness. 
We now have decades of research on SEL that demonstrates both why and how we can help students develop the critical soft skills they will need to have for the workforce of tomorrow. The challenge for today is to ensure that our public education moves toward more fully integrating these skills into everyday learning. 
Advocating for SEL in schools is advocating for our kids to be healthier and happier and for them to be successful in the workforce of the future.
| | |
| --- | --- |
| | Shai Fuxman is a senior scientist at EDC with expertise in social and emotional learning (SEL) and behavioral health. |