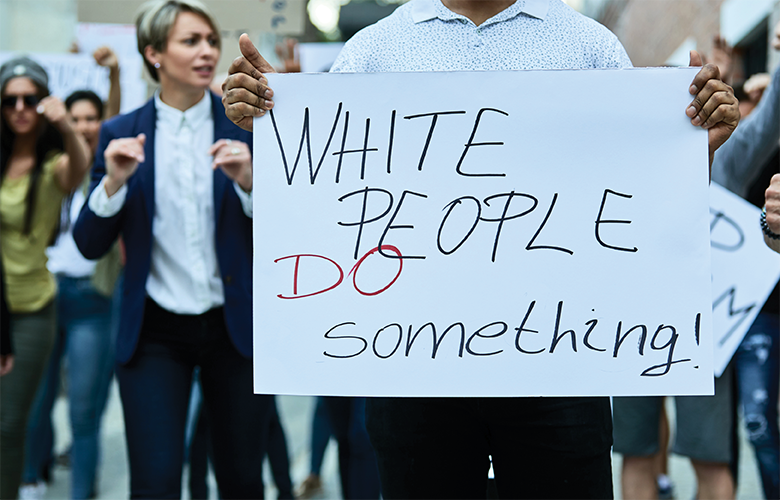 As the White director of a statewide technical assistance center, I work closely with communities across Massachusetts to prevent substance misuse in their communities. For the past two years, much of this work has focused on understanding the impact of structural racism on the health of Black and Indigenous people, as well as other people of color, and on seeking to correct the inequities that racism produces.
While most of our communities have embraced this focus, others have questioned its relevance. Racism, they contend, is a non-issue in their predominantly White communities. So why dedicate limited prevention resources to so overwhelming an undertaking?
Here's what I tell them—Combatting racism is everyone's responsibility.
 "Predominantly White communities" exist by design, not choice. They are the product of racist laws that prevented people of color from accumulating the wealth needed to invest in property and from purchasing homes in designated neighborhoods. This reality places racism squarely in their laps, however uncomfortable this reality may be. Asking a community why it is mostly White is an important part of the conversation.
As White people, we have all benefited from White supremacy. It is therefore our responsibility to understand the experience of people who are oppressed and to recognize how our perceptions of race may affect our work. Are we really understanding the cultural differences within our communities? Are we acknowledging the systems of power that prevent people from participating in our programs? Are we examining the biases and assumptions that blind us to the injustices right in front of us? Are we letting our own White fragility keep us from engaging in challenging but critically important conversations?
To improve the health of our communities, we need to commit to being allies, and we need to hold ourselves accountable. This means listening more and speaking less. It means reflecting on the feedback we receive—especially from populations that have been traditionally discriminated against. It means sitting with our discomfort and asking ourselves why we are uncomfortable.
We also need to recognize that even within predominantly White communities, there are people who are oppressed. It is our responsibility to lift up and amplify their voices—especially when they are the minority.
Doing this work isn't easy, but it's work we must all take part in. As my gifted colleague Makani Themba says, we need to "build callouses around our White fragility." We must have those uncomfortable conversations. And most importantly, we must turn those conversations into action.  
| | |
| --- | --- |
| | Gisela Rots is a public health specialist with a focus on substance misuse prevention. Her work at EDC focuses on providing technical assistance to states and communities to enhance their prevention efforts and supporting trauma-informed and equity-centered prevention efforts. |