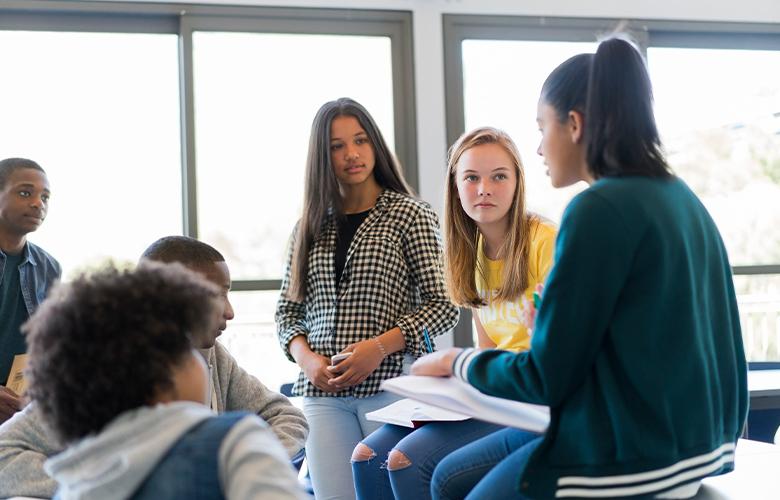 For decades, EDC has been a leader in promoting social-emotional learning (SEL), which focuses on fostering positive behavioral, academic, and mental health outcomes. Today, our SEL work in schools and preschools and our SEL research is still going strong. But we're also seeing new interest in SEL in our substance misuse prevention work.
Since 2017, my team has partnered with the Richard M. Fairbanks Foundation to help school districts in Marion County, Indiana, identify, implement, and sustain proven substance use prevention programs. With our support, schools assessed their prevention needs and resources and selected a program to address those needs. Across Marion County, schools chose programs that focused on SEL rather than programs designed to reduce risk factors for alcohol use.
There are several explanations for these choices. SEL programs provide the greatest "bang for your buck," producing improvements in academics and helping students develop the social and emotional skills needed to prevent substance misuse. They help students realize their current potential, while preparing them to respond productively to future challenges. And, SEL programs are the right match for the student population. Across the United States, schools serve young people who are dealing with ongoing stress or significant trauma.
Today, more students present with a history of adverse childhood experiences, which increases their risk of substance misuse and other behavioral health problems. More students are affected by the opioid crisis, including having parents with opioid use disorder, parents who are hospitalized or incarcerated, or parents who have died from an overdose. These experiences change the architecture of children's brains, preventing them from responding appropriately to new stressors when they occur. SEL can actually override these structural changes, enabling these children to better adapt to and handle the stressors of everyday life.
As with any evidence-based initiative, the success of SEL programs depends on several factors. Teachers must be well-trained, leaders and policies must reinforce SEL competencies, and school support staff—secretaries, school nurses, coaches, bus drivers—must understand and appreciate their vital roles in helping students develop social-emotional skills.
With awareness growing of how childhood stress and trauma contribute to bullying, suicide, and school violence, I expect that SEL programs will play an even greater role in schools going forward. It provides a critical foundation for ongoing substance misuse prevention efforts throughout a child's school experience. Do you agree? Please share your ideas in a comment.
Chuck Klevgaard is a nationally recognized expert in school-based health, public health, and substance misuse prevention.