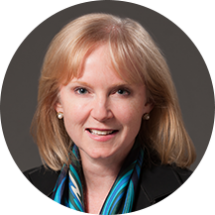 Ciara Burnham is a partner with QED Investors, a leading venture capital firm that actively supports high growth businesses that use information to compete and win.
Prior to joining QED, Burnham was a senior managing director of Evercore and worked broadly across the firm's businesses, having joined Evercore shortly after its inception. Most recently, she served as the CEO of Evercore Trust, a nationally chartered trust bank with over $50 billion in assets. Previously, she was responsible for strategy and corporate development, leading initiatives that included launching new lines of business, executing acquisitions, raising capital, and developing the international platform. She has significant experience dealing with federal regulatory agencies, including the Office of the Comptroller of the Currency and the Department of Labor.
Prior to these, Burnham was an equity research analyst with Sanford C. Bernstein & Co., and a consultant with McKinsey. She is a member of the board of trustees of Pilobolus, an internationally recognized modern dance company; the Dean's Advisory Council of Princeton University; and the New York Women's Forum.
During 2018, Burnham will be in residence at Stanford University as a Fellow in the Distinguished Careers Institute. She received an AB from Princeton University and an MBA from Columbia Business School.