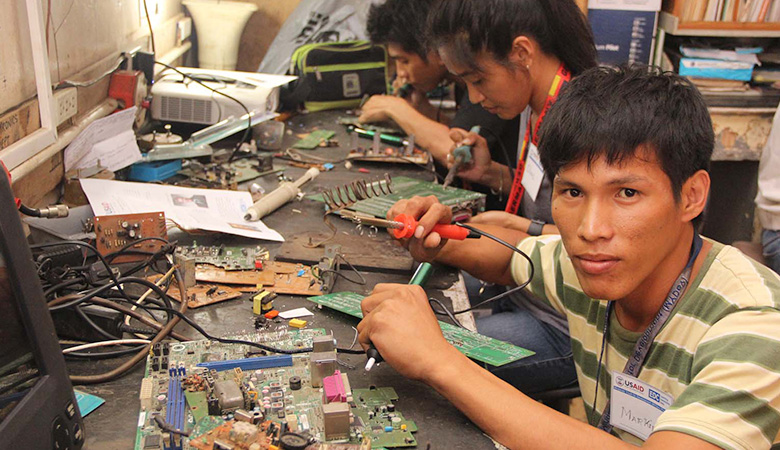 Challenge
Ongoing conflict in the Mindanao region of the Southern Philippines has led to wide displacement of residents, lack of essential services, and high rates of poverty and youth unemployment. As in many regions of conflict, formal economic, educational, and civic opportunities are scarce—a combination of factors that pushes many young people toward participating in idle pursuits.
EDC worked with the government of the Philippines and local partners to strengthen peace and stability in conflict-affected areas of Mindanao through the USAID-funded Mindanao Youth for Development (MYDev) Program. MYDev actively engaged out-of-school youth (OSY) in workforce and community development activities, contributing to incremental gains in mutual trust and social capital that underpin local area stability, security, and prosperity.
Impact
Engaged over 25,719 out-of-school youths in MYDev's life skills and Alternative Learning System or technical-vocational training
Facilitated the completion of training by 22,163 OSY and the national certification of 14,980 OSY
Established OSY development alliances in eight cities and municipalities, convening local governments and national government agencies, academe, and the private sector to conduct local market analyses, provide guidance to local training service providers on skills training courses, and link OSY to employment
Organized OSY summits to allow youth to demonstrate newly acquired skills, showcase products, and present entrepreneurial business plans, as well as to provide youth with links to job referrals
Learn More
FUNDED BY
U.S. Agency for International Development
PARTNERS
Technical Education and Skills Development Authority (TESDA), Republic of the Philippines Department of Education; Bureau of Alternative Learning, Republic of the Philippines Department of Education; Local government units (mayor's office); Southeast Asian Ministers of Education Organization (SEAMEO); Local service providers: Notre Dame University; Zamboanga-Basilan Integrated Development Alliance, Inc. (ZABIDA); Massachusetts Institute of Technology (MIT); Central Mindanao Integrated Livelihood Assistance and Resource Development Foundation, Inc. (CEMILARDEF); United Youth for Peace and Development, Inc. (UNYPAD); Nagdilaab Foundation; Technical vocational institutes.