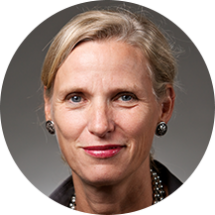 Rebecca Jackson Stoeckle is an EDC vice president and the director of Private Sector Partnerships, where she directs initiatives in health, technology, aging, and systems change.
For over three decades, Stoeckle has designed innovative, technology-based projects to address some of the world's foremost challenges in health and economic opportunity. Her signature projects have improved health care for older adults with dementia and for those who have experienced abuse, created breakthrough opportunities for youth in developing countries to be part of the emerging digital economy, and designed digital tools and systems to improve veterans' access to mental health services. Her current work at EDC focuses on the intersection of innovation and impact in the design of interventions.
Stoeckle is the director and co-investigator of the Elder Mistreatment Initiative and the co-investigator for the national dissemination of the UCLA Alzheimer's and Other Dementia Care (ADC) model for community-based care. She is a member of the National Academies of Science, Engineering, and Medicine Forum on Aging, Disability, and Independence, as well as the World Health Organization's G7 Advisory Group on Aging and the Environment.
Stoeckle received a BA from Stanford University and was a Sage Fellow at Cornell University.
Projects
Selected Resources
Websites
These free online training courses are designed to help entrepreneurs learn what they need to know to establish and grow a business. Users learn at their own pace in their own time.