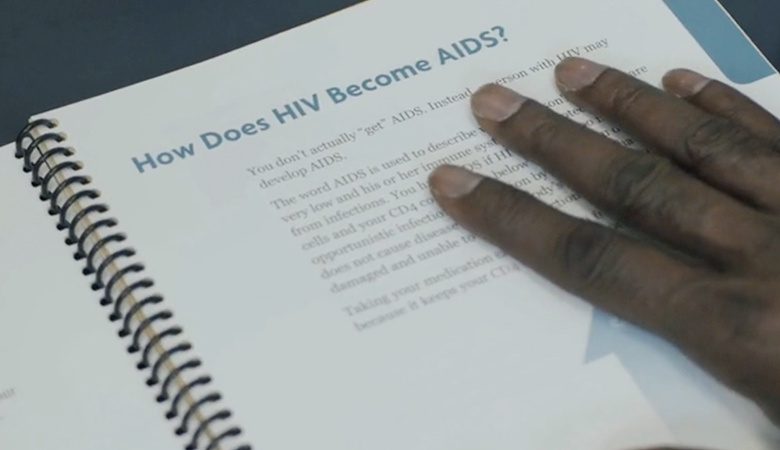 Challenge
Many people with HIV are not benefiting from the treatments and therapies that could help them live longer, healthier lives. Co-morbid conditions, social and environmental barriers, and a lack of coordination among care providers are among the factors that challenge their success in staying well.
EDC is creating STEPS to Care, a simple, unified way for program directors, care coordinators, patient navigators, and primary care physicians to support clients at the highest risk of dropping out of HIV care. The STEPS to Care approach helps clients feel empowered to take charge of their HIV diagnosis and improves client services across the HIV/AIDS care continuum.
Key Activities
STEPS to Care helps clinicians use three evidence-informed strategies—patient navigation, care team coordination, and HIV self-management—to create a powerful, multi-level support network for clients. The program's activities include:
Work with clinicians and public health officials to translate the New York City Department of Health and Mental Hygiene's HIV Coordinated Care model into an online intervention that can be disseminated nationally to practitioners
Build the STEPS to Care website, which offers an accessible package of multimedia e-tools that support the implementation of STEPS to Care
Build the STEPS to Care patient self-management website
Conduct a six-month pilot study with hospitals and community health centers in New York City and across the United States.
Impact
To date, STEPS to Care has been pilot tested with over 200 people living with HIV in New York City.
Learn More
PROJECT DIRECTOR
FUNDED BY
Centers for Disease Control and Prevention
PARTNERS
New York City Department of Health and Mental Hygiene