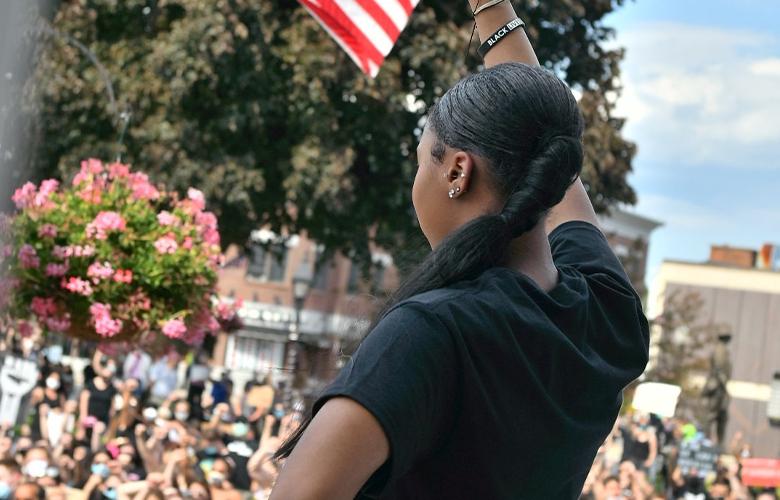 Cities and towns are alight. Long-standing and ongoing targeting and oppression of the black community are symptoms of the deep inequity and racism that have long been part of our social fabric. Justice and injustice in the name of the law are part of our living history. A legal landscape that has both preserved the law and subverted it, protected and oppressed, has prompted an onslaught of civic action across the United States and the globe.
These actions are our hope. As waves of dissent and protest move across the country, young people are rising up and demanding justice and equity under the law. The demand to educate and empower young people about the law, protesting, and enacting change is immediate and urgent.
EDC's Law and Justice curriculum supports the development of an informed, active "fourth branch" of government—the people. Designed for high school students and young adults, the courses and units support three key understandings that can inform the choices young people are making right now.
Systemic racism and oppression exist. Readily available public data paints a stark picture of disparities in arrests, incarceration, and deaths of people of color. Implicit bias has become a required component of training for law enforcement in many areas. The legal system has the power to both preserve and dismantle these inequities. Data literacy, historic understanding, and access to information help students move beyond conversations about whether systemic inequity exists to discussions of concrete actions to address it.
Movements for systemic change are not "one size fits all." As a democratic society, we can work individually and collectively to shift, disrupt, transform, and alter the law in the abstract, on paper, and through individual action. This includes writing, passing or blocking a law; calling for social justice as citizen journalists; engaging in collective advocacy; or participating in public protest. Lessons learned from past and current dissent can help youth make informed choices about what actions will be most effective.
It helps to understand the legal landscape you are trying to change. Our social and legal system consists of many layers and parts. To truly enact change, young people need to know who has power, what kind, and how it works in action. Understanding how the law works empowers people to change it.
As they live through and shape this moment in history, young people will construct meaning and their identities as future citizens and community members. Youth have power. Let's support them in wielding it with understanding, authority, and a commitment to justice.
| | |
| --- | --- |
| | A former social studies teacher, Jessica Juliuson cultivates strategic partnerships among schools, communities, and industry to enhance outcomes for youth. An expert in whole school change, she leads innovative initiatives focused on instructional design, professional development, career and technical education, and youth empowerment. |
Photo by Tom Luongo