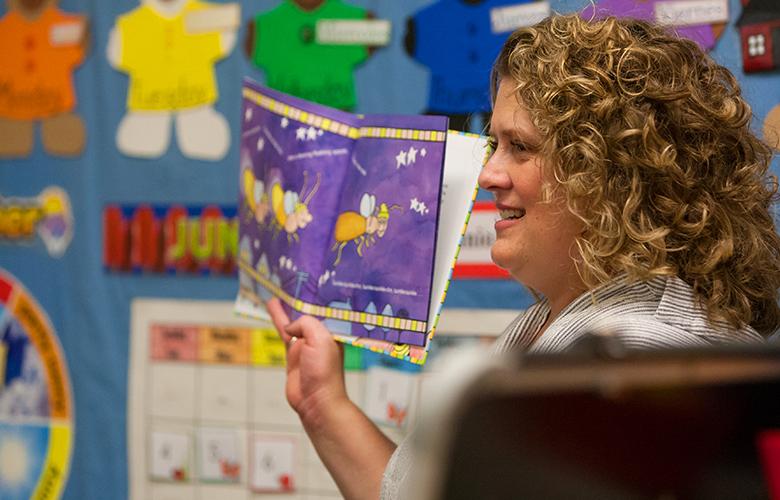 Every May when National Teacher Day rolls around during U.S. Teacher Appreciation Week, we help our kids make cards for their teachers—heavy on the glitter and gel pens. Some of us also take a minute to reach out to a teacher who made a difference in our lives. It's great, and I will be joining lots of people in sending messages out on social media to #ThankATeacher today.
Yet today, and every May, I find myself thinking, "Hmm. It's nice to press pause to appreciate teachers. But shouldn't we do that every day?" This year, that "Hmm" feeling is even stronger. Ever since schools closed in the wake of COVID-19, I have been very deeply appreciating teachers, as well as families that are partnering with teachers to help kids learn at home.
Every day, I've been trying to find ways to thank teachers and families. This has included working with my EDC colleagues to share free resources to support teachers and families, and helping TeachersConnect get the word out about their free Open Mics for teachers.
Right now, I want to say to all teachers and all parents and caregivers: "I know how hard you are working every day, and you are amazing." Two stories of many:
You are a Head Start teacher in Rhode Island, and you are my colleague's daughter. You teach your small students online now, from your home. You read together, play with them, explore art and math. You brought eggs and an incubator into your living room and hatched baby chicks as the kids tuned in every day. Together, you made predictions about when the chicks would hatch and what kind of chicken they would be. You are a phenomenal teacher, and I appreciate you!
You are my many colleagues at EDC—across the U.S. and around the world—who are now parents and assistant teachers. You are all working at home now, and I am not sure where you find your energy and patience. Sometimes your children are special guests in our meetings. One of your daughters explained her bird research to us. One of your sons helps you cheer for first responders. I know how hard it must be to help them feel safe and help them keep learning. You are phenomenal parents, and I appreciate you!
To all teachers and parents: Please do something nice for yourselves today. You deserve it.
| | |
| --- | --- |
| | Kim Elliott is director of communications for EDC's U.S. Division. |